Bharuchi Vahora Patel – In Lancaster
Babu Ghodiwala
Early Settlers:
Bharuchi Vahora Patels first settled in Lancaster in 1962. Amongst the first arrivals from the Bharuch District were Ali Master and Umarji Master of Paguthan; Abdul Thagia and Yakub Dola of Kantharia; Abdullah Munshi of Manubar; Ibrahim Chandia of Sansrod; Vali Vahaluwala, Musa Dalal and Yusuf Master Lala of Ikher; Vali Ismail of Zanghar; Ismail Gajra of Valan; Isa of Dahegam; Abdul Maje of Dayadara; and Ismail Garigapoti of Valan. In 1964, Musa Ahmed Khoda, Ismail Ahmed Khoda, A U Patel and Ibrahim Master Khoda of Tankaria joined those Bharuchi Vahora Patels who were already there. Today, in 2011, there are 70 Bharuchi Vahora Patel families who have made Lancaster their permanent place of residence.
Occupations:
The Bharuchi Vahora Patels who came to Lancaster during the period 1962 to 1964 were all working in Bath Mill, Lancil Mill and Storey of Lancaster Mill. It was in the 1980s, when the mills started to close down and the Bharuchi Vahora Patels became unemployed, that they started thinking in terms of exploring other avenues. They started their own small businesses in various sectors.
At present, in 2011, Abdullah Munshi, originally from Manubar, owns a posh restaurant known as the Sultan of Lancaster, with nice decor and modern seating arrangements.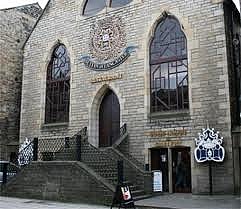 Yakub Mister of Dahegam is also in the restaurant business. Some Bharuchi Vahora Patels have opened take aways and some have started corner convenience shops and newsagents. Quite a number of Bharuchi Vahora Patels in Lancaster are now landlords and they rent their houses mostly to the students of the Lancaster University.
Among the professionals, there are two accountants, two pharmacists, four solicitors and some IT specialists.
Organizations:
There are two masjids and madrasas under Bharuchi Vahora Patel management in Lancaster. Bharuchi Vahora Patels have also contributed in the establishment of a Darul Uloom for girls. There is no community centre or youth centre for use by the elderly or the youth.